Nwf Small and Mighty Kids
Jesus said, "Let the little children come to me..."
The core of Northwest Fellowship KiDS Ministry is found in Matthew 18. The disciples asked who is the greatest in the Kingdom of Heaven, and Jesus responded by placing a child among them. To Him, greatness is equated to repentance and humble, child-like faith. This is hard for adults because it means humbling ourselves to be like lowly little children, a sector of society that is loved, yet often overlooked because of their inability, neediness and lack of experience. However, Jesus looks upon these same children and calls them greatest in the Kingdom of Heaven. NWF KiDS is dedicated to seeing our youngest generation encounter Jesus, become empowered by His Spirit, and engage in outreach opportunities to impact their world for Christ. Jesus said, "Let the children come to Me", and so we agree. Let your children come.
NWF KIDS MISSION STATEMENT
Our Mission here at NWF is to partner with the kids primary pastor (their parent or guardian) to raise up kids who love Jesus. We want to foster an environment here in our physical church building where kids can worship, serve, pray and discover who they are in Jesus. We do not take lightly the term "Small and Mighty". We know our kids may be small, but they are very mighty in Jesus!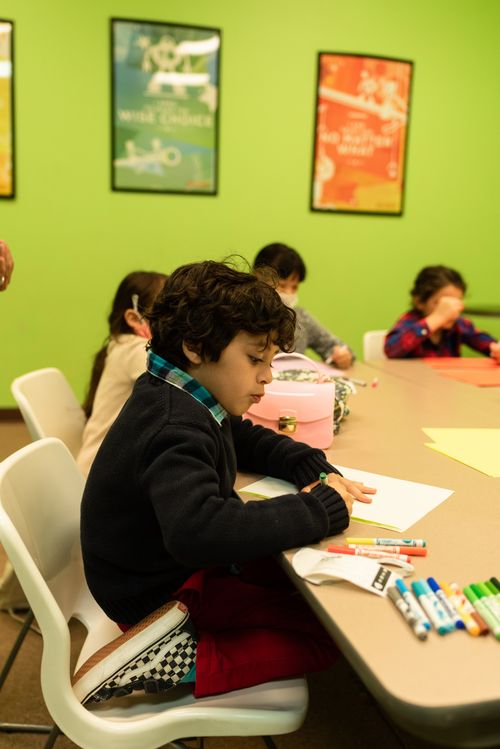 Children are very capable of encountering Jesus. They meet Him through times of worship, prayer, teachings and ministering to each other. Our goal is to create as many opportunities as possible for this meeting to happen. Every Sunday, the children have a time of live worship and corporate prayer, followed by a Bible story drama and kid's sermon. It's a wonderful blessing to see their hearts change as they spend time in the Presence of God.
There is no such thing as a baby Holy Spirit. The same Spirit that inspired the prophets is the one who filled John the Baptist in his mother's womb. We provide opportunities for children to serve so they can discover their spiritual gifts and learn what it means to be an active member of the body of Christ and take ownership of the ministry. They help as greeters, check-in assistants, worship leaders, actors in the drama and teacher aides to name a few.
We strive to create a learning environment that engages children in a meaningful way on their level. The timeless truths from God's Word are presented through drama, puppet skits, creative object lessons, games and more. They also enjoy a small group time in the individual classrooms to discuss questions and go through that week's sword drill, a Scripture study exercise. We also create online weekly devotionals, with access to fun Bible learning games. Our desire is for children to fall in love with God and His Word.
Sports and Drama Camp 2021
We are so excited for Sports and Drama Camp 2021! See the details below.
Location
: Northwest Fellowship Church (13427 Pond Springs Rd. Austin, TX)
Date and Time:
June 7-10 (M-Th) 9am-12pm
Camp cost:
$30 per child or $60 per family
Each camper will receive a t-shirt and a daily snackAges 5-12 are Welcomed!
Basketball (6-12)
Soccer (5-12)
Cheer (girls 6-12)
Drama (5-12)
Featuring:

Christian Coaches
Quality Sports Instruction
Positive Role Models
Daily Bible Time
Skits and Fun
For all questions, please email Lilly Scibana (
lilly@northwestfellowship.com
). Click
HERE
to sign your child up today!!
Want more videos, worksheets and other resources? Click
HERE
to see all our archived lessons!
**UPDATE**
Beginning Sunday, June 6th, we will no longer require masks for any adults (teachers or parents). We are also excited to announce that Sunday June 6th we will also be opening up our nursery again!

Please email me (lilly@northwestfellowship.com) with any questions!
We'd love to hear from you. Fill out the form below to get started.